What a year it's been. We are so glad to be getting into the Christmas spirit nice and early. There is something about twinkling Christmas lights and colourful decorations that bring a smile. It is also wonderful to have a toddler who is big into everything Christmas. Since December the 1st Annabelle has insisted on wearing Christmas themed clothes and her new BFF is the Nutcracker!
One big adjustment this year has been the move to online shopping. Okay it's not new but when we are looking for gifts we like to wander the shops to find something different. It's not the same online, you have to have more of an idea of what you are looking for.
So if you, like us, are looking for inspiration for something a bit different here are a few suggestions from us:
Adults:
Mapiful: Do you have a special place or significant location? Then Mapiful would make a great gift. Essentially this is customisable wall art. You can pick any location, choose your map style and colour and add a personal phrase to add your own touch. We debated between Garden Valley, Idaho where we got married – but it was a just a blank map (it's was in the middle of nowhere). Sydney where we lived for a year, but in all honesty we didn't want to look at it everyday wishing to return. Birmingham, our home, was a close second choice but as it is ever changing we wanted to wait for the significant changes to finish. And so our top choice was London. It's where we met. Where we fell in love and where we lived for 5 years. Plus it's iconic.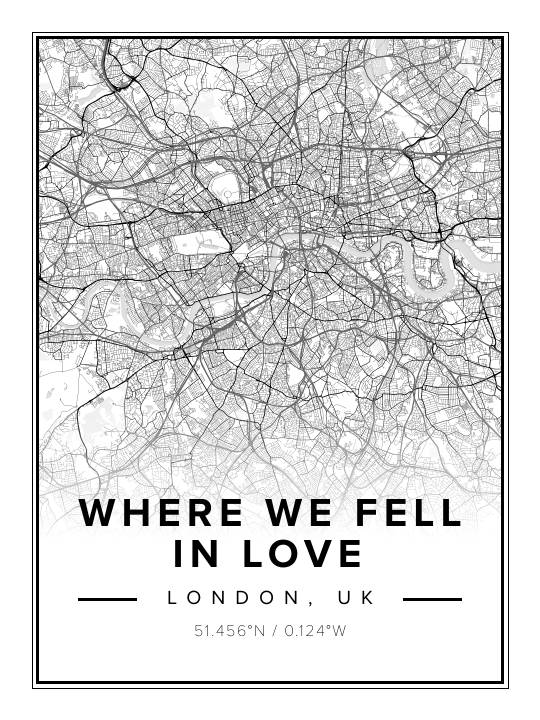 Razor: Okay this may sound like a strange one but we have recently tried razors from Estrid and they are so good. Here's the thing, they are vegan razors! Designed to be kind and gentle to your body – seriously no nicks with these razors – and the planet. This is a gift for someone you care about and who has a social conscience and it's only £7.95 for the starter kit.
It's vegan as it uses natural ingredients like aloe vera instead of animal substances in the soothing strips. Buying one even helps make a difference. For every purchase they donate a portion to Kvinna till Kvinna, Medica Mondiale or the Fawcett Society. These organisations all work to support women and gender equality around the world, click the links to find out more.
Available in a range of colours you can pick Blush, Lemonade, Peach, Space or Cloud. I went with Space as I like purple and Laura went for Blush as she likes pink, they look super cute hanging in the bathroom together!
You can read more about the razors and the Estrid mission here.
Tiny Tot Tribe: Our personal go to for comfy jumpers. At some points this year I have managed a whole week of outfits with jumpers from Tiny Tot Tribe. They have tons of designs and lots of clothing options. Whether you want something cute or you want to match with your kids you should check out this small business. Oh and use Annabelle10 for a discount!
Children:
Puzzles: Annabelle has loved puzzles for months. Not only do they hold her attention but she seems to enjoy the satisfaction of completing them quickly. We rarely check the age suggestions on the boxes and instead go for designs we know she will like.
Our latest addition has been a stunning Finding Nemo 24 piece puzzle. The reason it makes the suggestion list isn't just the design though, it's because it's two-sided and the back allows you to colour it in. Not only do you get the puzzle to complete but it becomes an art project too. Annabelle loved it. Available from ToysandBearsonline this would make a great gift for a toddler or younger child and it's currently on at a discounted price of £6.39.
In fact check out the online store for a huge variety of toys and games. There are lots of great puzzles and educational toys available for all ages.
Books: As well as puzzles, Annabelle's big love is books. We read 3 or 4 stories every night and we are often asked to read stories during the day. During quiet time we often hear Annabelle reading the books to herself or to her dolls and it never fails to make us smile.
We have found that raiding our childhood books hasn't been a good idea. Heteronormative families are the only ones represented. The grammar can be terrible. The stories just plain weird. And there are no POC represented.  It has led us to seek out stories that show a different view of the world for Annabelle. Our two favourite books right now are:
Whose In My Family. This book covers every type of family situation there is and tells a story that Annabelle loves. She finds herself represented in the pages and it gives us an opportunity to discuss why being different is a good thing.
For a similar reason the other book we are enjoying is Big Splash Circus. The story is about finding your own special talent and not comparing yourself to others. It is also about having a go and trying new things. As the book is filled with vibrant colours and different characters it is easy to communicate the messages in a way that Annabelle enjoys.
Elf Cards: If you want a game that children and adults can enjoy then this is it. A modern take on snap this card set allows you to make up your own games. We play snap with the pictures but you can also do it with colours or with designs. Annabelle will happily play snap with us and it's a game where my competitiveness is aloud 🙂
Dogs:
Bandana's are one of our latest favourites for Bisbee. There isn't a season that doesn't need a bandana. Now Bisbee is getting more walks (thanks lockdown) it makes sense that she always looks good. Her Christmas one is from Jeliandmac the bandana is only £5.50  and is double sided. We also love SewBlueShop they are super cute designs that work on all collars and each bandana is £4.40.
Light-up collar sadly a lot of Bisbee's walks are after it gets dark so we have invested in a great light up collar. Click the link to check our one out. It is great as you can cut it to size so it works for any dog. It also has a number of settings from flashing to bright. Best of all it is rechargeable so you don't have to worry about batteries!
Cute dog collars: We love getting Bisbee collars to match the season. It seems only fair. We recently found Squigglestitch.co.uk on Instagram and they have a really cute selection. Our favs being the Aquafruit (perfect for a colour pop) and a fun house for all the colour (great for spotting a Bisbee that blends into winter environments).
We hope whatever your Christmas plans are looking like that you have a wonderful time and let us know if you take up any of our suggestions!
Disclaimer: we were kindly gifted the items from SquggleStitchCo, Mapiful, Estrid Razors, ToysandBearsOnline and The Big Splash Circus Book for review. Having used the products ourselves the comments above are all our own and we received no payment in exchange for the reviews.